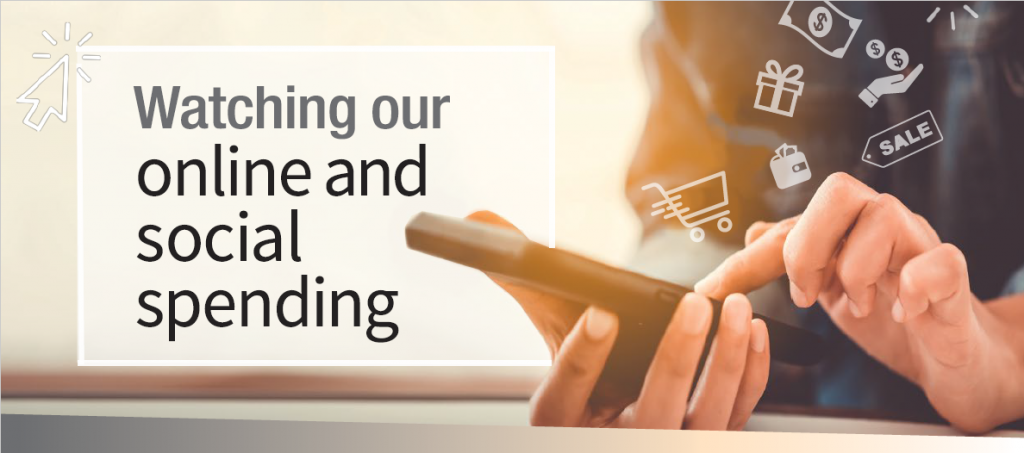 The changes to our daily lives of late have caused us to reframe our views on 'screen time', an activity that now more than ever takes up a significant proportion of our day.
However, as we spend more time online we are also spending more online and it pays to be mindful of the ways our browsing habits impact our hip pocket.
With the average Australian spending over six hours on social media every week, it's safe to say we're affected by what we consume online. (1)  This can happen consciously, from actively looking up brands and products, or subconsciously, through viewing advertisements directed at us.
Social networking to selling
When Facebook first started gaining popularity in the naughties, its focus was on social networking. By 2016 it had evolved into a marketplace so users could sell to each other, regardless
of whether they were connected. Facebook also had over seven million advertisers during the third quarter of 2019 alone. (2) So when you log into your Facebook account these days, it's just as likely to be because you'll buy something than to socialise.
Similarly, lnstagram has developed from simply sharing photos. A 2019 survey showed that 81% of respondents use their accounts to research products and services, and 130 million users view shopping posts every month. (3)(4)
Easy social shopping
The sophisticated and seamless purchasing experience offered by social media platforms has made shopping even easier and buy now, pay later services such as Afterpay also make it easier to purchase an online product or service through instalments.
Hard to resist targeted advertising While users are able to search for products and purchase online, the data collected from social platforms allows marketers to target individuals based on their demographics , interests and online behaviour. Have a look at the ads that appear when you next log in – chances are they'll be relevant to you. Your data , such as your browsing history and the apps you use, can be tracked and used to present targeted advertising on your feeds. (5) This practise isn't a secret, but it can still be surprising (and even unsettling) as to how tailored this advertising can be. With advertising pinpointing your real and anticipated needs, it can be hard to resist buying. And with data kept of previous ads you responded to, you'll see even more similar ads after you purchase from an ad – keeping you in the spending loop.
Influencing our buying behaviours
'Keeping Up With The Joneses' is prevalent on social media, where people compete for the most likes thanks to their extravagant lifestyles. But it's not just envy which induces us to spend. We turn to those we trust when it comes to making decisions, which is why when we see friends, families and 'influencers'(people we respect and trust) using a product or service and having a positive experience, this acts as social proof.
Fear Of Missing Out
FOMO – it's a thing, and something that can be worsened by social media, making it tempting to spend on the latest gadgets or lifestyle trends. Comparing yourself to others can create anxiety and also induce spending to 'keep up'. However, there's a growing movement towards JOMO, the joy of missing out.
With financial anxiety on the rise, JOMO is much better for our hip pocket than FOMQ. (6)
Watching your hip pocket when it comes to your social spend can be challenging. If you are concerned about your spending, set a budget which allows for the amount of online shopping you are comfortable with. It's a good idea to keep track of your purchases to ensure your spending is not to the detriment of your day to day needs as well as your longer-term financial goals.
Finally, just having a greater awareness of how social media influences your behaviour will help you to resist the subtle enticements of social marketing.
https://www.genroe.com/blog/social-media-statisticsaustralia/13492
https://sproutsocial.com/insights/social-media-statistics/
https://business.instagram.com/blog/how-to-sell-yourproducts-on-instagram/
https://blog.hootsuite.com/instagram-statistics/
https://www.wired.com/story/whats-not-included-in-facebooks-download-your-data/
https://www.news.com.au/finance/economy/australianeconomy/younger-australians-are-embracing-news-story/11ac6520fa3be768d885b855ae0c8c76