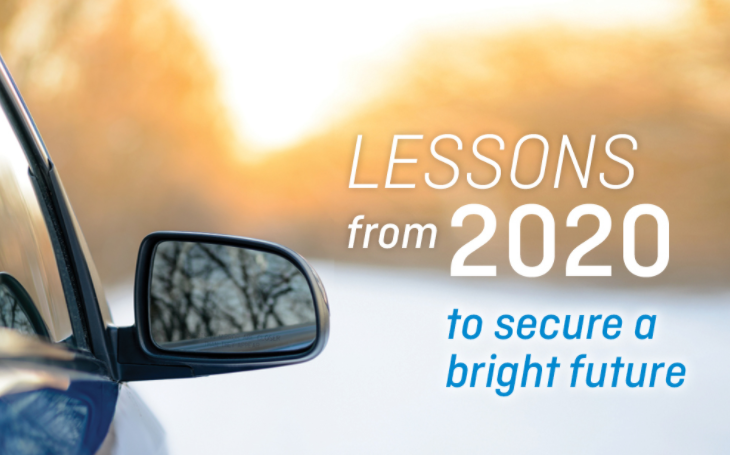 It was a year most of us would like to forget. And yet, some of the toughest lessons of 2020 had a silver lining.
We weathered bushfires, floods, a pandemic that's not over yet and a recession that is. Through it all we emerged a stronger community. Many of us also learned some useful financial lessons that we can put to work in 2021 and beyond to help create a more secure future.
So what were the money lessons of 2020?
Along with frequent hand sanitizing and social distancing, one of the big take-homes of 2020 was a renewed appreciation of the benefit of saving for a rainy day.
Check your safety net
Faced with the shock and uncertainty of the economic shutdown, and the first recession in almost 30 years, we initially snapped shut our wallets. When the government's stimulus payments began landing in bank accounts, followed up with tax cuts, those who could squirreled some away.
In the June quarter 2020, the ratio of household savings to income jumped to 22 per cent, compared with a mere 4 per cent in the same period the year before. i
This was highlighted in a recent survey asking people what they intended to do with the personal income tax cuts that were brought forward in last year's Budget. While saving was the most popular goal for 57 per cent of respondents, this rose to 66 per cent for people aged 18-34.ii
Not only had younger people never experienced a recession, but they were also more likely to be affected by job losses and insecure work.
As general rule of thumb, it's a good idea to have the equivalent of around three months' income in cash so you can ride out life's curve balls. You could put your savings in a bank savings account or, if you have a mortgage, in a redraw or offset account linked to your loan.
Diversify and stay the course
While cash in the bank is a relief if you receive an unexpected bill or your income fluctuates from month to month, it won't build long-term financial security.
Once you have a saved enough for short-term emergencies, you need to channel some of your savings into investments to fund your future goals and retirement income needs.
Another positive lesson from 2020 was the power of a diversified investment portfolio to ride out short-term market shocks. Actually, that's two lessons.
While having a mix of investments helps cushion the blow when one asset class or investment goes through a rough patch, it's equally important to stay the course. The performance of diversified superannuation funds last year is a good example of these two principles in action.
For example, Australian and international shares plunged 27 per cent and 20 per cent respectively in the three months to March last year as the economic impact of the pandemic became clear. But losses for members of diversified super funds were limited to 11.7%. By the end of June returns were down just 0.5% on average and have bounced back strongly since then.iii People who sold in March would have missed the recovery that followed.
Insure against loss
While savings and a diversified investment portfolio provide a degree of financial security, there may be times when more financial support is needed.
One sobering lesson from the pandemic, fires and floods was that life is fragile and material comforts such as your family home can't be taken for granted. That's where insurance comes in.
Sadly, many of those who lost their homes and other belongings during the summer bushfires and floods were not insured, or inadequately insured.
While homes are precious, there is nothing more precious than life itself. Having an appropriate level of life insurance and total and permanent disability (TPD) insurance will provide financial support for you and/or your family to continue your lifestyle if you were to become critically ill, injured or pass away.
As a new year beckons and you make a list of your goals and wishes, take some time to reflect on the lessons of the past. If you would like to discuss ways to build financial security in 2021, contact us now.
i  https://www.abs.gov.au/statistics/economy/national-accounts/australian-national-accounts-national-income-expenditure-and-product/latest-release#key-statistics
ii https://www3.colonialfirststate.com.au/content/dam/colonial-first-state/docs/about-us/media-releases/20201124-media-release-tax-cuts-final.pdf
iii Returns for median superannuation Growth fund, Chant West.